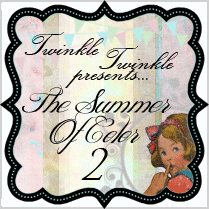 As ever the husband and I have quite a few projects going on and with the heat index reading well over 110*F, we've been hiding out of the sun. So, for this week's color prompt, Strawberry Lemonade Punch, I once again broke out the sketchbook so I could work in between other things (prepping food for the week, clearing out closets, re-organizing, making cucumber vodka.. you know, all sorts of things!).
So here is this week's piece for the summer of color:
It is far, far,
far
more pink than anything I've done before and honestly, I don't know that I like it. It's been quite a while since I worked with colored pencils really, having given them up to devote more time to learning watercolors and acrylics, and I sort of think this one looks a bit like I did it with crayons. Again, that's what sketchbooks are for I suppose - practice and trial runs. Who knows, maybe this bright drawing will grow on me, or you all will like it. After all, we usually are our own worst critics!