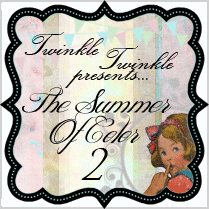 I've been slinging paint and cranking out all sorts of things in my time home over the past week. Between working on the first assignment for
Total Alignment over at Dirty Footprints Studio
, working with oil pastels in my art journal, going to a beer festival at the zoo and staying out way too late with a new friend, I got a late start on my piece for this week's Summer of Color prompt.
Luckily, the little guy who jumped up and said 'Me, me, paint me!' was incredibly cooperative and more cuddly than you'd expect from someone of his species. So let me introduce you to the Mint Yeti:
This furry fellow is painted on 8x10 stretched canvas with acrylics. We know there's not much brown aside from his eyes, so we hope you'll let the warm gray pass for the chips part of the ice cream inspiration.
I had some "help" with this project this week too. You see the tube of gray paint rolled off my table and I didn't notice it at first. Little Luna was kind enough to fetch it back for me:

Luna's idea of 'helping'.


Gray patches of evidence.


Someone is pleased with herself, gray patches and all! Those spots on her arm and shoulder are not normally there...