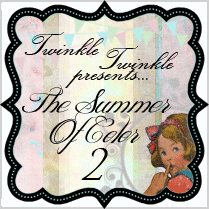 As I mentioned in my last post, I'm taking part in The Summer of Color party over at Kristin's blog - Twinkle, Twinkle. The prompt for week one was one of my favorite sweet colorful summer treats, rainbow sherbert! Looking at her inspiration photo I immediately thought of the sunset and bright bold zinnias at the local plant nursery. I sat down to sketch and in a surprisingly short period of time had whipped up a wee friend for this week. Here she is, Miss Zinnia:
She's done up in watercolors and measures in at 4x6". This was my first go at a proper sunset as well as those big poofy flowers and overall, I'm very pleased with her.
Are any of you playing along?