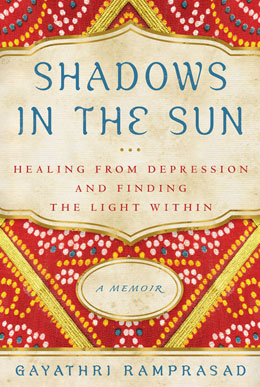 Shadows in the Sun: Healing from Depression and Finding the Light Within

From the Publisher:
As a young girl in Bangalore, Gayathri was surrounded by the fragrance of jasmine and flickering oil lamps, her family protected by Hindu gods and goddesses. But as she grew older, demons came forth from the dark corners of her idyllic kingdom—with the scariest creatures lurking within her.

The daughter of a respected Brahmin family, Gayathri began to feel different. "I can hardly eat, sleep, or think straight. The only thing I can do is cry unending tears." Her parents insisted it was all in her head. Because traditional Indian culture had no concept of depression as an illness, no doctor could diagnose and no medicine could heal her mysterious malady.
This memoir traces Gayathri's courageous battle with the depression that consumed her from adolescence through marriage and a move to the United States. It was only after the birth of her first child, when her husband discovered her in the backyard "clawing the earth furiously with my bare hands, intent on digging a grave so that I could bury myself alive" that she finally found help. After a stay in a psych ward she eventually found "the light within," an emotional and spiritual awakening from the darkness of her tortured mind.

Gayathri's inspiring story provides a first-of-its-kind cross-cultural view of mental illness—how it is regarded in India and in America, and how she drew on both her rich Hindu heritage and Western medicine to find healing.
My Thoughts:
Memoirs typically aren't my thing, but as someone with depression I chose to read and review
Shadows in the Sun
, because I feel that sharing our unique journeys with this disease helps to demystify and humanize it. Talking and sharing lets us know we are not alone, that there is hope and help available. It takes great courage and strength to admit you have an issue and twice as much to openly share the struggles, feelings, darkest moments of that issue in an honest manner. Gayathri manages to do just that; sharing her experiences in such a way as to transport you in to the setting, in to her body, so that you almost can feel what she is feeling at the time. Several times when her stomach clenched, mine did as well and I found myself having to put the book down on a few occasions as I was sobbing too hard to see the letters on the page.
While the book is said to show the differences between the stigma and treatment of depression and mental illness in India and America, it did the opposite of that for me. As I read, I found myself nodding my head in understanding, heart hurting, as Gayathri's downward spiral and melt downs were said to simply be teenage angst. My stomach knotted up in sympathy at the hurtful words flung her way - that she was faking it, that she was simply spoiled - and at the treatment she received. I had more than a few conversations nearly identical to the ones she had with her parents and doctors. While we grew up in two very different times and places, some things remain eerily similar.
And those unchanged similarities are why stories like this one are so very important. Not just for people with depression to hear or read, but for everyone. Because stories like this shine a light in to the very darkest places, exposing truths and pains that are misunderstood, mistreated or brushed off as something else altogether. This heartfelt memoir can take even those blessed to live without depression in to that place some of us know all too well, creating a new understanding and growing compassion.
I would highly recommend that anyone pick this memoir up, whether you have depression, know someone with it or not because it can only serve to help understand what mental illness is like for some people. And understanding is a valuable tool to help others, to improve treatments and tear down stigmas.
Most especially, though, I would recommend it to anyone who needs hope... because even in the darkest places, there is always hope.
To visit Gayathri's non-profit, ASHA International, where she promotes awareness of mental illness, hope and holistic healing click
here
.
***Giveaway Info***
This giveaway is open to residents of the United States and Canada only (sorry, overseas friends!) and will run from March 12, 2014 through March 16, 2014. The winner will be announced here on the blog on Monday March 17 and will be chosen through a random number generator. I will email the winner that same day asking for their mailing information and they will have 48 hours to get back to me. After that 48 hour time period has passed another winner will be chosen.
To win
Leave a comment below telling me you'd like to win this book. Easy Peasy! Please make sure to include your email address so I can contact you if you're the winner.
Entries without email addresses will be considered void.
For Additional Entries
Please leave a separate comment for each entry.
1) For 1 additional entry, Share this review/giveaway on Twitter. Leave me a comment with a link to your tweet. Only one tweet per person, please.
2) For 1 additional entry, Share this review/giveaway on your blog. Leave me a comment with a link to your post. Only one post per person, please.
3) for 5 additional entries, Share how mental illness has touched your own life; whether it be your own struggles or someone you knows. If you haven't had any experiences with it, you can share that as well. One comment per person, please.