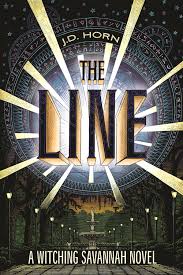 The Line
by J.D. Horn
From the publisher:
Savannah is considered a Southern treasure, a city of beauty with a rich, colorful past. Some might even call it magical . . .To the uninitiated, Savannah shows only her bright face and genteel manner. Those who know her well, though, can see beyond her colonial trappings and small-city charm to a world where witchcraft is respected, Hoodoo is feared, and spirits linger. Mercy Taylor is all too familiar with the supernatural side of Savannah, being a member of the most powerful family of witches in the South. Despite being powerless herself, of course. Having grown up without magic of her own, in the shadow of her talented and charismatic twin sister, Mercy has always thought herself content. But when a series of mishaps—culminating in the death of the Taylor matriarch—leaves a vacuum in the mystical underpinnings of Savannah, she finds herself thrust into a mystery that could shake her family apart . . . and unleash a darkness the line of Taylor witches has been keeping at bay for generations. In The Line, the first book of the Witching Savannah series, J.D. Horn weaves magic, romance, and betrayal into a captivating Southern Gothic fantasy with a contemporary flare.
My Thoughts:
I finished the book in two days, over a few short reading periods and I have to admit, the second day went a lot faster than the first. Why? Well, the first half of the book felt a little slow and disjointed to me; there were a lot of characters to get acquainted with in those first few chapters and I felt like there was a bit more telling than showing going on with their personalities as well as some of the events. I felt as if I was moving through a world, rather than being immersed in it, as the author began to flesh out the Taylor family, their history and the murder that starts big plot lines moving.
A little less than halfway through, I felt like that changed. The plot began to pick up steam, the characters had been fleshed out and I was thoroughly intrigued by the webs woven between and around them. But, while I became enamored of Mother Jilo the Root Mother and a few of the Taylor relatives, I had a hard time connecting with our protagonist Mercy or her twin sister, Maisey. Both read a bit younger than their proclaimed age of 20 (21 by the end) and I feel like the chemistry and relationship between the two of them could have been fleshed out a bit more. While their story wasn't as well fleshed out as I'd have liked to see, it doesn't detract from the flow of the story in any glaring ways. However,
**Spoiler - This spoils the end of the book, so don't read if you haven't read the book.**
Knowing more about the sisters relationship would have shed a bit more light at the end of the book on Maisey's jealousy (which when you read how badly she wanted to be Anchor and through her actions in the book seemed to come out of nowhere) and attempted murder and WHY exactly Mercy would be like "Well, she tried to kill me in a horrible, painful way, but she's my sister and I love her and need to find and reconcile with her." Because if my sister had tried to murder me and then got blasted off to another dimension or reality, there's no way I'd go after her.
*** End Spoiler***
Mercy also reads a bit like a wishy washy wet blanket, especially where her love life is concerned. As this was touted as a "Paranormal Romance", I expected a bit more from the love interests and triangles in the book and it feels a bit like the fleshing out of these was lost under the bigger waves of the main plot. Which works for me, because I'm not a huge romance fan but if it's in there I feel like it needs to have more substance than "this one's cute" and "this one's nice."
All that said though, I enjoyed the book and several things that happened genuinely surprised me. I'll most likely pick up the next book to see how things pan out for the Taylor family.
In a writing world saturated with stories of witches and magical intrigue, I give
The Line
a lot of credit for having a plot that didn't feel rehashed and a family of witches that is interesting and most importantly, different, from other witches I've read.